With iconography and details that root the mural in Montreal, the large-format work incorporates signs, symbols, and hidden messages that speak directly to the heart of the Mile End at Marie-Anne Ouest and St-Laurent
International Artist, underground hero, and local favourite Stikki Peaches hit the west wall of the historic J. Schreter's building with an epic Frida Kahlo mural. With iconography and details that root the piece in Montreal, the mural plays with signs, symbols, and hidden messages that speak directly to the heart of the Mile End. 
french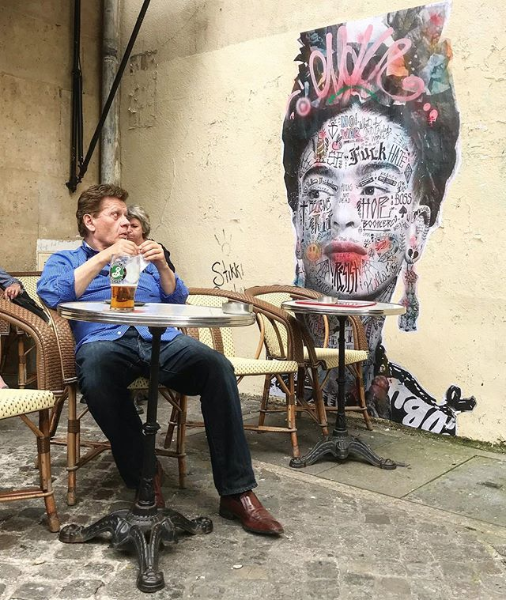 Freedom Frida / Paris, France / Photo by @Stikki_Peaches
Lonnie Schreter, the 4th generation to lead J. Schreter Inc., had been brainstorming ideas ahead of the J. Schreter's upcoming 90th birthday. He needed to something, find something, or build something to honor the momentous occasion. But what? It needed to have gravitas and it needed to have connections to not just the store but to the people and the neighborhood that have sustained Schreter's popularity and contributed to the longevity and depth of character the neighborhood commands.  With Leonard Cohen's house looking on from across the street, it needed to be authentic.
The past is all around in this neighborhood, but the future bangs on the walls and demands, in its ways, to be let in. Lonnie and Schreter's embrace change and are open to the new future of the neighborhood. When the idea presented itself, Lonnie was able to catch it, and with a lot of luck, an Instagram DM encounter, and a love of Montreal, Stikki Peaches took notice of the old store, its new ideas and a wall begging for just the right mural.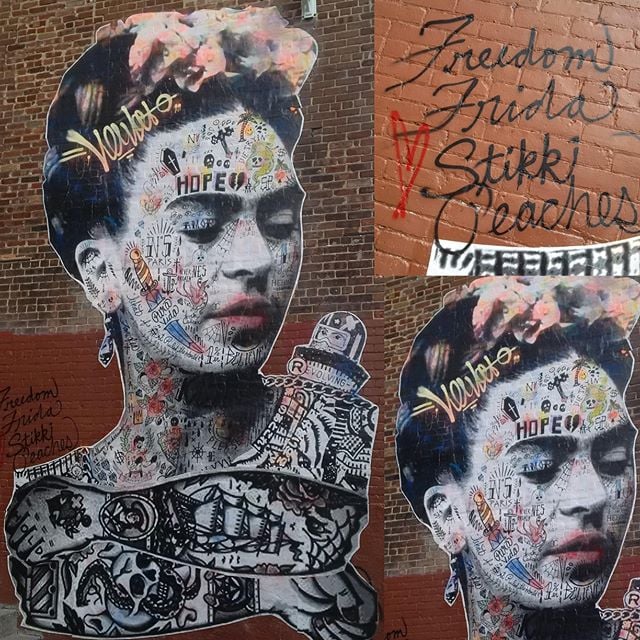 Photo by @sebas78mtl
Stikki Peaches is known for his signature works from Paris to Berlin, London to New York, but MTL is his home. Best known for sketching and embellishing the faces of celebrities from Coco Chanel, Bob Dylan, and John F. Kennedy to Stormtroopers and Darth Vader, his works hang in private collections and museums throughout the globe. His nocturnal proclivity for donning a Mexican wrestling mask and bombing public spaces can be found in the alleyways and streets of Montreal throughout the Mile End, Chabanel, Le Plateau and Ville Marie.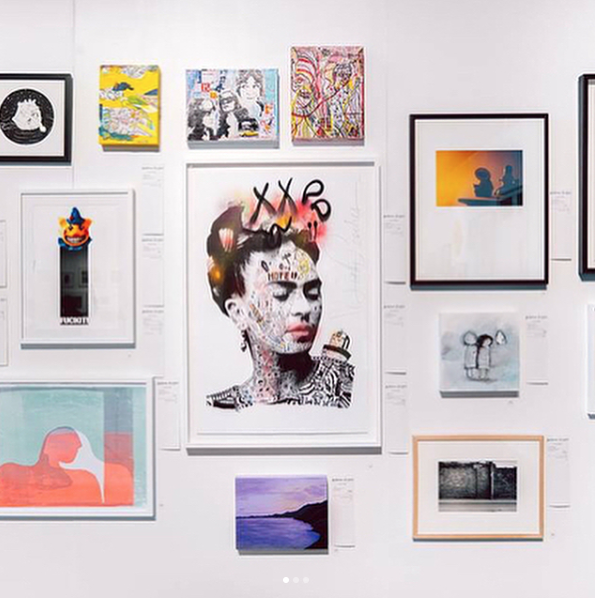 Galerie Les Impatients s'installent à l'Édifice Wilder. 
L'exposition Parle-moi d'amour Paris, France  @lesimpatients 
Street art in all its forms has been legitimized in recent years and grown from the underground to be the reigning kings of the Montreal art scene. Montreal has always been known for its art and artists, but with the meteoric popularity of MURAL Festival and the legitimacy bestowed by the shows at the incredible art galleries Station 16, GLR24, and Centre Phi, the art of artists like Stikki Peaches has transcended sub-culture and dialogues in open-air and without 911 calls to report vandalism. Street art has become a part of our zeitgeist and joins the pantheon of icons we look to represent ourselves.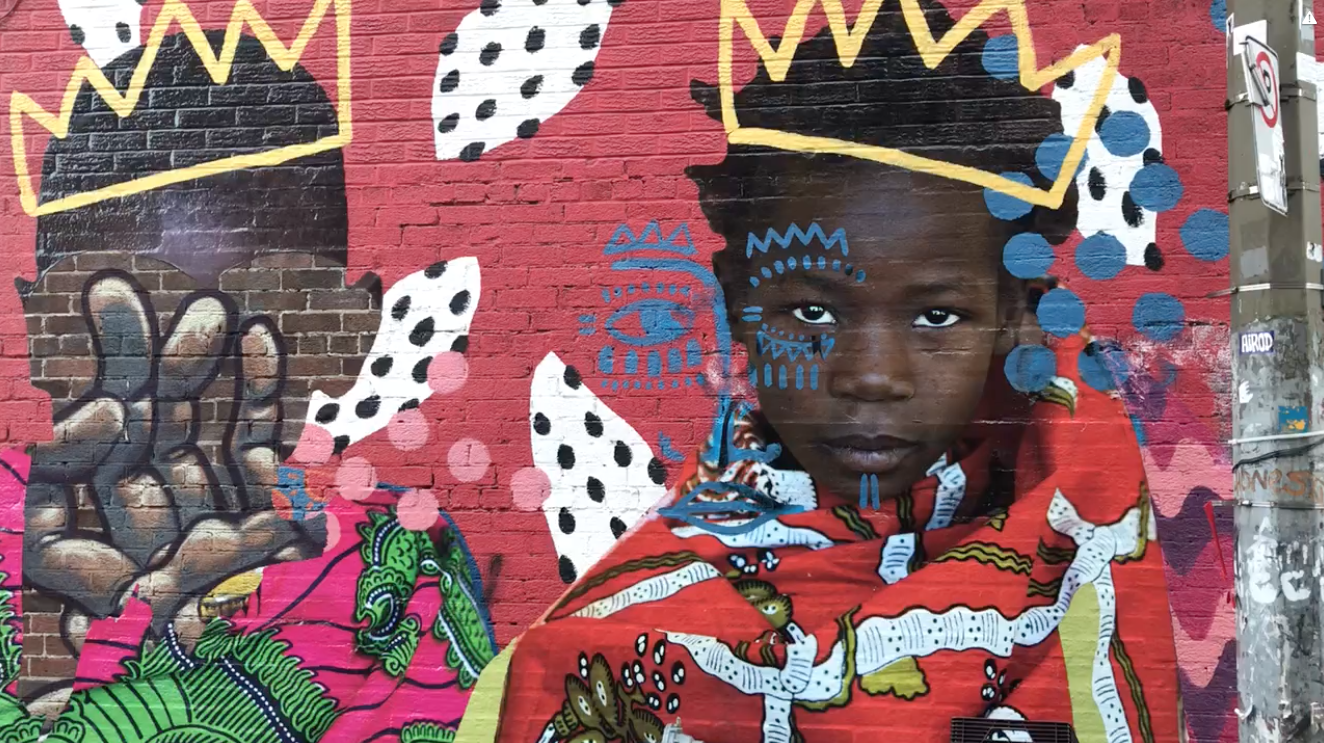 The Miss Me and Aydin Matlabi Mural facing Freedom Frida from Darling Bar wall on Marie-Anne Ouest
It was in this climate that a chance meeting between Lonnie Schreter and Stikki Peaches eventuate into the artist that is defining Montreal arts began to collaborate with an icon of Montreal's coeur neighborhood. You know when you see something and you think, "That's Montreal." There's an edge, there are esoteric icons, and there's a love that lets you know you're in the right place.
Not one week after Schreter's got Stikki Peaches' attention Lonnie was thrilled to find a small version of a Stikki Peach artwork on Schreter's brick wall (across from Darling Bar.)  that he couldn't help but flaunt on Schreter's Instagram page (@schreters). Stikki Peaches then reached out to Lonnie to tell him that it would be great to work on the same wall for a larger piece, a more monumental piece, a piece perfect for the Mile End bastion.
Stikki Peaches believes Frida Kahlo suits the Schreter's and their place as not only a historic landmark but as a still very much still relevant. And if Stikki Peaches thinks, "It's a fine home for the beloved Kahlo," we couldn't agree more.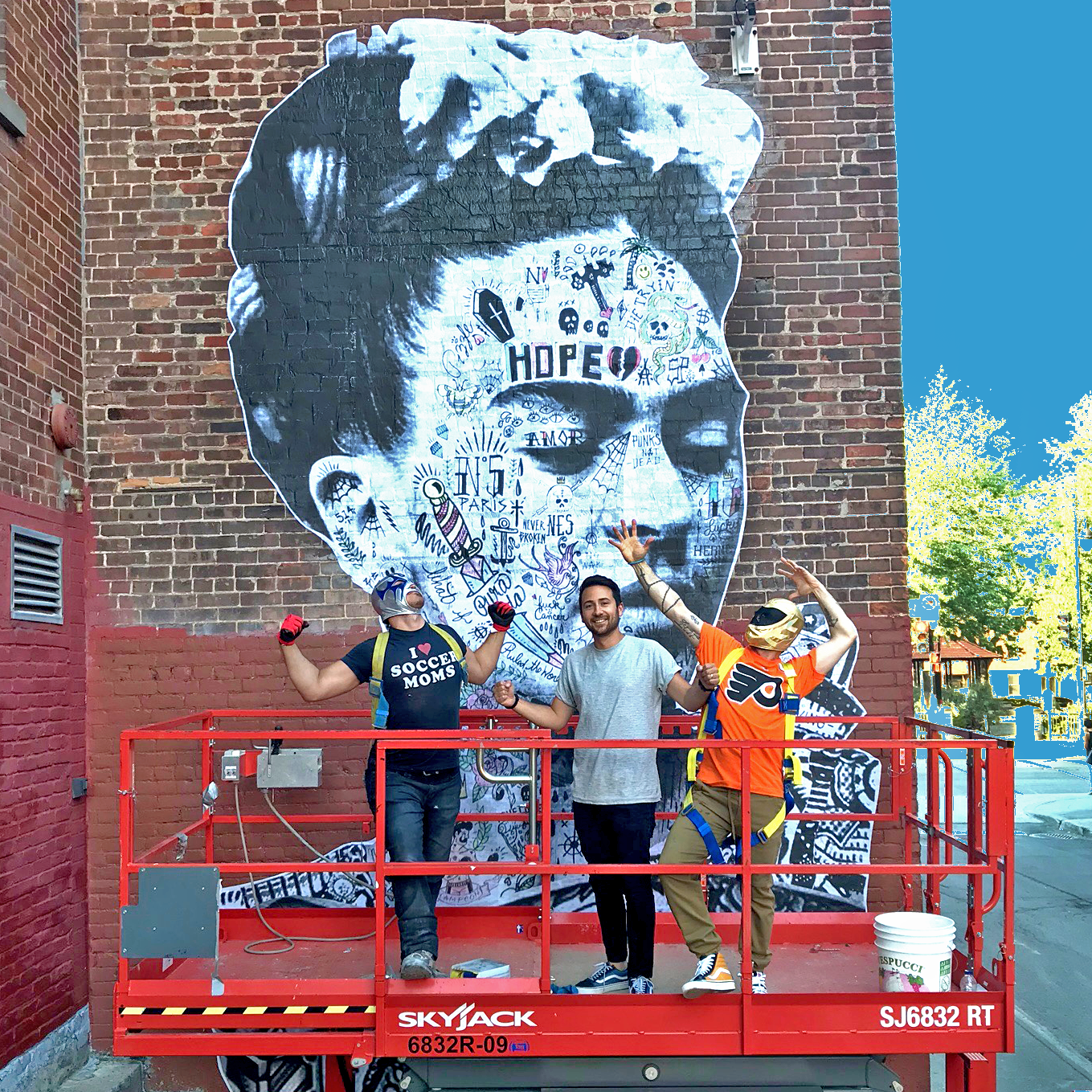 Stikki Peaches (far right), his assistant (far left) and Lonnie Schreter (center) after completing the installation of Freedom Frida
Stikki is wearing DU/ER No Sweat Jogger pants and VANS SK8-HI Shoes
Come by, check out the art and keep in touch so we can enjoy the neighborhood,
revel in the glory of summer in Montreal,
and begin to celebrate Schreter's 90th year together.