OSHEAGA Pro-Tips with DJ CONSTRUCT and DJ SANTI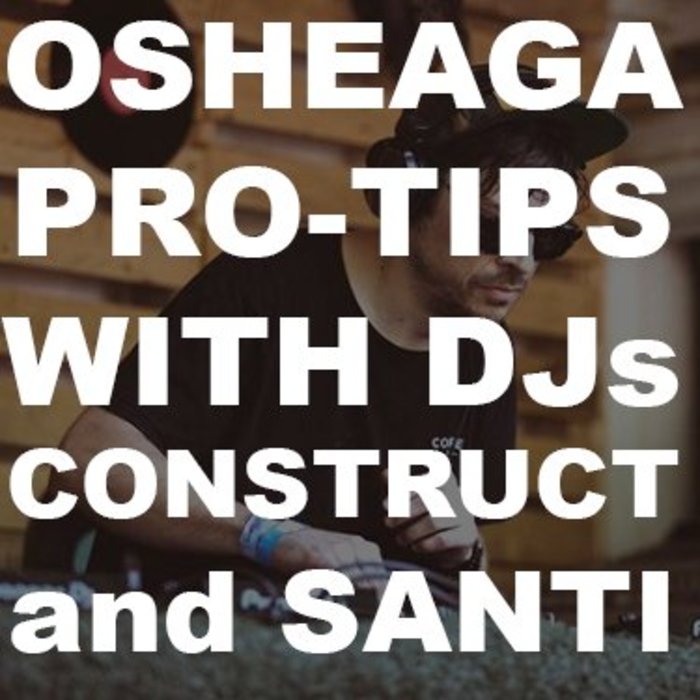 | | |
| --- | --- |
| DJ CONSTRUCT | DJ SANTI |
 

Who better to give festival pro-tips than the guys who literally spend more days at festivals each summer than most of us spend with our families. DJ Construct (Marc LaTulipe) and DJ SANTI (Santiago Uribe) break it down for us.

 

Construct says to keep this in mind; you're there to see the shows and have fun and you want to last the whole day or all three days--that's no small task. It's a marathon, not a sprint, and you want to be prepared in your head and with what you wear.

 

His advice is all about stamina. When the main acts come in at the end of the day you don't want to be tired. It's the good part. You have to have the energy for them because they are going to bring 100%. Anderson Pak is going to bring 100%. Arctic Monkeys are going to bring 100%.

 

 

 

 

 

 
 

PRO-TIP ONE: Cover Your Head.

You're spending the day with 30k people and you're going to be stuck in the sun. If you're sensitive or prone to burns get a big brim or a straw hat.  Having a bandanna or a Buff on hand can save your neck, your scalp, or even keep your tattoo from fading. 

 

Construct's advice thorough; take off your hat from time to time to let the heat leave your body. Don't trap in the heat and make sure you're paying attention to yourself. The medical tent is the pits and an avoidable distraction from all the fun you should be having.

 

 
 

PRO-TIP THREE: Perfect Pants.

Don't wear anything too tight and avoid fitted denim.

They don't let air in and tight denim is great until you have it on all day and you're damp and you're miserable.

 
| | | |
| --- | --- | --- |
| DU/ER JOGGER | DU/ER JOGGER | DU/ER JOGGER |
 

PRO-TIP THREE: Comfortable shoes.

Waterproof them with spray. You'll keep your feet dry and your shoes will clean up better after the festival is over. Schreter has nice ones that will do double duty to keep your feet dry this fall and keep the salt from ruining your boots this winter. (Yeah, winter is coming.) 

 

Sandals are nice, but not for all day. A quarter inch of foam between you and asphalt gets old really fast. You'll also want to cover up your toes. You're there to stand, walk, and dance and if you get underfoot you don't want to be injured when you could be dancing.

 

If you wearing uncomfortable shoes so you'll look #AMAZ on Instagram put some VANS or the ultra-lightweight NATIVE shoes in your backpack. The sun sets at 8:25 and you'll want to dance. Nobody is judging your shoes when Florence and the Machine are on stage.

 
 

PRO-TIP FOUR: Carry a Water Bottle

Easy to fill and open.

Make sure the lid has a loop you can hook to things.

A carabiner to hook to your bottle and a LANYARD so you can hook the cap to yourself or your bag. Holding it all day can make your arm exhausted. Also, you're just less likely to lose it

 

 

 
 

MARC'S OSHEAGA RULES:

DJ Construct at PIKNIC ELECTRONIK, 2018

 

Never wait in the first lineup you see.

There is a shorter lineup around the corner. If the porta-potties are full, look for the next one. If there is a lineup at the water, find the other one.

Try to not go the same way as the herd.

If it's lunchtime and everyone is hitting the truck wait an hour. Your timing will save you so much time through the day.

Check out the smaller acts instead of fighting for the main stage.

Take breaks from the ... you'll have easier access, you'll get closer, and you'll suffer less for it.

Make sure you're always having fun.

If you're feeling stressed or tired go sit down. You don't have to do what everyone else is doing.

Hang where you can be found.

Have a regular general area where your group hangs out in relation to the stage.

Bring balloons.

When you're lost blow up a balloon and shine your phone through it. Your friends will be able to find the glowing orb in the crowd. Or if you're brave, find the friend who doesn't mind the attention and bring a totem pole. An extendable walking stick is the best. Put a totem on it or a glow stick and you're the easiest thing in the world to find.

 

Affilations: Conkrete MTL / Sound Museum / Saturate!Records / Valhalla Sound Circus / Future Forest

"As the founder of the wildly popular international podcast and blog J'aime Le Dubstep, Construct in unquestionably Montreal's foremost bass-pusher." - Osheaga

Listen: MIXCLOUD or SOUNDCLOUD

 
 

SANTI'S OSHEAGA RULES:

DJ Santi at PIKNIC ELECTRONIK, 2018

 

Get the app! You'll find your friends. It works. APPLE STORE or GOOGLE PLAY
Don't go to the bars by the main stage. The lineups are not worth it.
Don't waste a minute. For the Music check out the artist that plays before so you can get there early and not feeling like your wasting your time waiting and listening to music you don't like. It's all day, but it's a fast day. 
Get to know the lineup. Bring a printed version. Make notes and have a pool of acts you like and check out the geography of the site so you're not constantly navigating long distances. Between the stages is a 15 minutes walk and the act might only be 30 to 45 minutes. Make the walk worth it.
Wear vans. For sure, black vans. They are comfortable and made for dancing.

 

VANS / For The Makers

 

Affilations: Conkrete MTL 

Local heartthrob and man-about-town, Santi is fresh to the scene and brings the energy of youth mixed with a timeless wisdom and a knack for turning the dancefloor on its head. No stranger to bass he's a favorite at Picknic and has regular nights at Newspeak. 

 

 

 
Be the first to comment...